Heavy Duty Selector Grabs for Excavator
The KINSHOFER heavy duty selector grabs are a proven concept that can be applied widely for demolition, recycling and other applications. The grabs are characterized by their extremely powerful closing strength and the robust construction of the yoke thanks to a Delta-box frame with wide pivotal points using bearings and over-dimensioned pins and bearings.
The Delta-box frame in combination with a single large diameter cylinder – for powerful closing – ensures low reactive forces at the hinging points. The application of a single, hydraulically cushioned cylinder makes the grab easy to service and reliable because of the simplicity of the hydraulic system. The shells are equipped with a perforated shell plate made of high-grade material as standard. This construction gives extra torsion rigidity to the shells, prevents material getting stuck in the shells and gives optimal visibility on the job.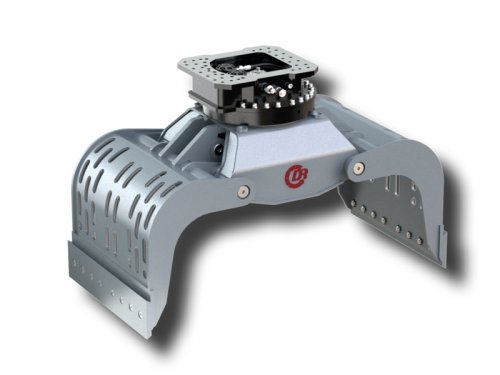 Side plates and reversible, divided bottom blades are manufactured of extra thick, durable material. The divided bottom blades can also be interchanged up to 3 times (starting from D19H-P-HD) so that wear at the corners can be dealt with and wearing-material is not wasted unnecessarily.
Starting from D32H-P-HD, the heavy duty selector grabs are equipped with twin rotation motors, the smaller versions can be upgraded optionally. Standard is an integrated rotation with sturdy slewing ring.
The application of the standard load safety valve in the grabs open/close circuit ensures safety during operation. Overheating of the oil is avoided and the machine keeps up its cycle speed.
Accessories such as side plates and different adapters are available for the D-HD-series.
D15H-P-75HD available for excavators with 10 to 18t / 22000 to 39600 lbs.
D16H-P-90HD available for excavators with 12 to 20t / 26400 to 44000 lbs.
D19H-P-85HD available for excavators with 12 to 24t / 26400 to 52800 lbs.
D20H-P-100HD available for excavators with 13 to 25t / 28600 to 55000 lbs.
D24H-P-100HD available for excavators with 15 to 30t / 33000 to 66000 lbs.
D32H-P-110HD available for excavators with 20 to 40t / 44000 to 88000 lbs.
D40H-P-125HD available for excavators with 25 to 50t / 55000 to 110000 lbs.
D50H-P-140HD available for excavators with 35 to 60t / 77000 to 132000 lbs.
D70H-P-150HD available for excavators with 50 to 80t / 110000 to 176000 lbs.