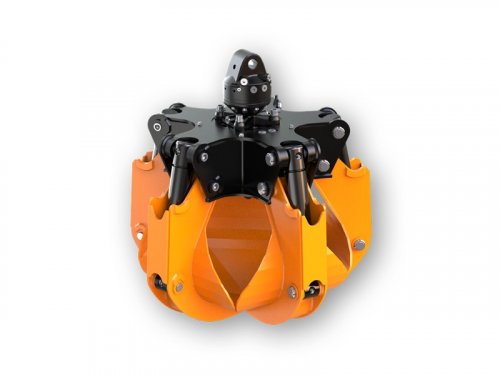 Orange Peel Grapples for Crane
The KINSHOFER orange peel grapples are the ideal tools for handling car bodies, loose waste, rubbish, gravel or sand, depending on the style of tines: fully or half closing for loose material, pointed tines for bulky scrap.
A long service life is guaranteed due to the solid design: the hydraulic cylinder pistons are protected by the gripping arms. Hydraulic hoses, connections and oil distributor are positioned in the robust centre section.
Special wear resistant materials used in the production of gripping arms and oversized bearings ensure a long life for these sturdy grapples.
The grapples are available as a smaller version with five arms (KM 652-5V) and half closing tines or a larger version, with different tine shapes and four or five gripping arms, depending on your requirements.
KM 652-5V, being a new version, also features a long service life, a high closing force and a replaceable, bolt-on oil distributor with hoseless, direct rotator connection. The grapple is also available without rotator but with load eye for hook connection, optionally also with non-return valve plate.
The special version KM 652/2 of the reliable orange peel grapples is asymmetric with half closing tines for an easy transport on Z-cranes, resting flat against the crane arm and not protruding the width of the carrier machine. It is mainly used for handling scrap, waste and construction materials, and is available with five or six arms – depending on the tasks.
KM 652-5V grapple available with 5 half closing tines and 180, 230 or 300 litres / 0.24, 0.3 or 0.39 c.y. capacity.
KM 650 large available with 4 or 5 tines in 3 different tine shapes with capacities of 250, 350 or 500 litres / 0.33, 0.46 or 0.65 c.y., including a non-return valve.
Tine shapes for KM 650 large:
– KM 651: fully closing tines for handling swarf, loose waste, soil, gravel etc.
– KM 652: half closing tines for handling swarf, scrap, rubbish, waste paper etc.
– KM 653: pointed tines for bulky scrap, car bodies, bundled waste paper etc.
KM 652/2 asymmetric grapple available with 5 or 6 half closing tines and 240 litres / 0.31 c.y. capacity, including a counter-balance valve.