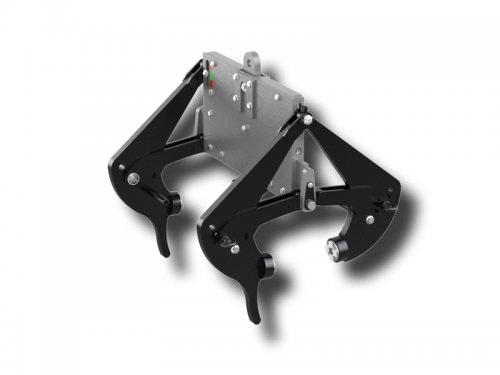 Manipulators for Excavator
KM 932MB Barrier Lifter:
The KM 932MB barrier lifter is a mechanical grapple for the fast and convenient handling of concrete barriers and blocks. The carbide gripping pads ensure a safe operation, even on wet or coated surfaces. The fully integrated, mechanically operated "latch & release" system (functions automatically each time the load line is slackened ) allows the unit to function independently, without assistance from a ground man.
Multi-position arms are a standard feature, meaning that one unit can achieve different gripping ranges by simply changing a pin position. The elimination of slings and chains means that more cycles can be achieved per hour.
KM 932MB with a load capacity of up to 6580 kg / 14476 lbs and a gripping range of 100 to 300 mm or 285 to 400 mm / 3.9 to 12.2 in or 11.2 to 15.8 in, depending on the type.