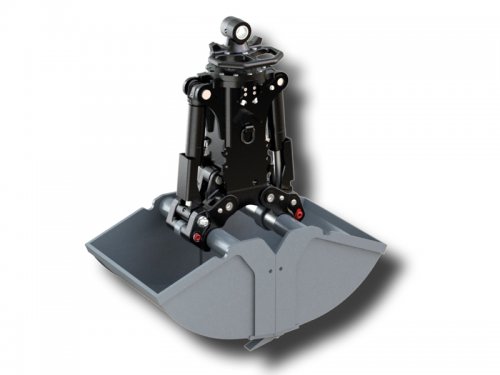 Clamshell Buckets with Exchangeable Shells for Excavator
The KINSHOFER clamshell buckets of the C-VE series feature vertical cylinders and – more importantly – an integrated shell exchange system. While the main carrier – including shell carrier, hydraulics and bearings – remains the same, the shells can be exchanged within under 5 minutes by only one man without any hydraulic works necessary. The change mechanism is integrated into the robust shell bearing. The large variety of available shells ranges from daily work excavating shells via rock or timber tines up to more special versions such as well shaft shells or pipe grabs.
More special buckets are further available on request.
C08VE available for excavators with 4t to 8t / 8800 to 17600 lbs.
C12VE available for excavators with 9t to 12t / 19800 to 26400 lbs.
C18VE available for excavators with 13t to 18t / 28600 to 39600 lbs.
C25VE available for excavators with 19t to 25t / 41800 to 55000 lbs.