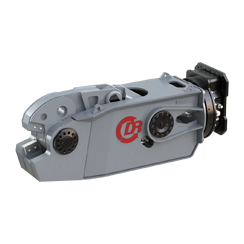 Mobile Rail Cutter for Excavator
The mobile KINSHOFER rail cutter is a special development for the controlled demolition of rail systems and for the scrap preparation of railway lines.
All current Vignol rails (flat bottom rails) with a standard quality up to 900 N/mm² and a profile size "S7" to "UIC 60" can be cut. Vignol rails in special qualities exceeding 900 N/mm² or with head hardening are excluded.
The patented DemaPower cylinder provides up to 20% more power. Large heavy duty bearings result in a reduced bushing wear. The housing is made of extremely resistant special steel and the cutter also features a heavy duty 360° rotation for a precise positioning of the shear.
RC 30 available for excavators with 22t to 35t / 48400 up to 77000 lbs operating weight with a jaw opening of 225 mm / 8.86 in and a jaw depth of 190 mm / 7.48 in.