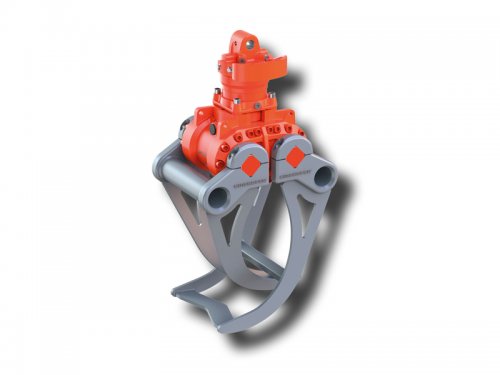 Rock Grabs for Excavator
The KINSHOFER rock grabs are the ideal tools for the handling of natural rocks. Thanks to the excellent closing characteristics, the load is held tight securely.
The small KINSHOFER rock grabs for excavators up to 8t operating weight are equipped with the revolutionary cylinderless HPXdrive and thus provide the feature to exchange the shells and use the drive unit for other applications.
The grabs are mounted cardanically and are equipped with a hose guard for additional protection.
The rigidly mounted R-series for excavators of up to 27t / 59400 lbs operating weight feature an integrated rotation with sturdy slewing ring and two hydraulically cushioned, horizontal cylinders. A non-return valve guarantees the secure handling and retention of loads, even at pressure drops. The three strong tines clamp bulk natural rocks and the rigid mount of the grab allows the precise positioning of the load if required.
with HPXdrive:
R05HPX available for excavators with 3 to 5t / 6600 to 11000 lbs.
R08HPX available for excavators with 5 to 8t / 11000 to 17600 lbs.
with cylinders:
R20H available for excavators with 14 to 20t / 30800 to 44000 lbs.
R27H available for excavators with 18 to 27t / 39600 to 59400 lbs.